Hey hey it's my first post! It's been way too long since I've written for fun or broken out my real, non-iphone camera to take some nice photos (two things I love) so I'm so excited to be back at it.
Anyway, josh and I had been dating four years this June (!!) and for that anniversary, we decided not to do anything crazy but just make each other a little something special. I had been wanting to frame some of our Instagram photos for him for a while, so it was the perfect opportunity to head to
Printstagram
to have my favorites printed. All of our memories from the past year really only exist on Instagram and I was always a bit frustrated that there was no easy way to save and store these, so finding this site was great. And at only $12 to have 24 high-quality cardstock photos printed and shipped to you, it's so worth it! I wrapped the photos up for josh in twine and it was so nice looking through them together outside of an iphone screen. That's the reason I love photos so much. We could sit there on my porch on a summer night and almost relive all the amazing memories we had over the past year and smile as though we were standing in that moment taking the picture all over again.
The photos spanned everything from our trips to Sedona and Florida, ski trips to NH, summer (and winter) days on lake champlain, nights out in Boston, and eveywhere in between. We really wanted to put them in some fun, rustic frames for our bedroom on marlborough so as we anticipated the move, we ordered this longer
barnwood frame
and two smaller
distressed white frames
from Wayfair. Then last weekend on a rainy, humid Saturday in Vermont, we decided to have a little fun with framing them.
All we bought for the project (aside from the frames & photos) was a
mini paint roller
and some double-sided tape. We took the cardboard out of the frames and turned josh's pool table into a makeshift art studio. I felt like I was 8 years old again in summer camp and I loved it. It's crazy what paint will do to you. We were both grumpy, sweaty and annoyed we were stuck inside on a summer weekend but as soon as the brush hit the paint we were laughing and running around trying to paint eachother's hair like idiots. We may have found the secret to taking years off you life!
After finishing the first piece of cardboard, I reluctantly handed the roller over to give him a turn. :)
Josh already had some white paint but this would also be cool to do with a light yellow or teal or whatever color you have in your bedroom. Down the road I may also try it with some fun fabric or wrapping paper.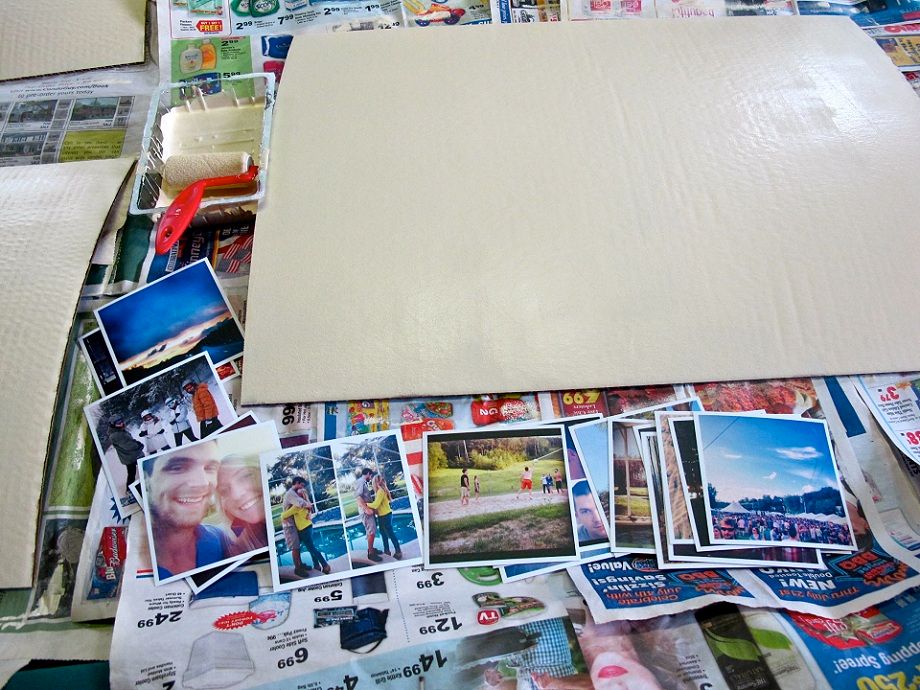 Once the cardboard was painted, we went and got lunch and let it dry for about an hour. The toughest part was then measuring each photo square to be exactly the same distance apart. Josh used a ruler and pencil to make faint lines, but in the end we ended up just kind of eyeing it out!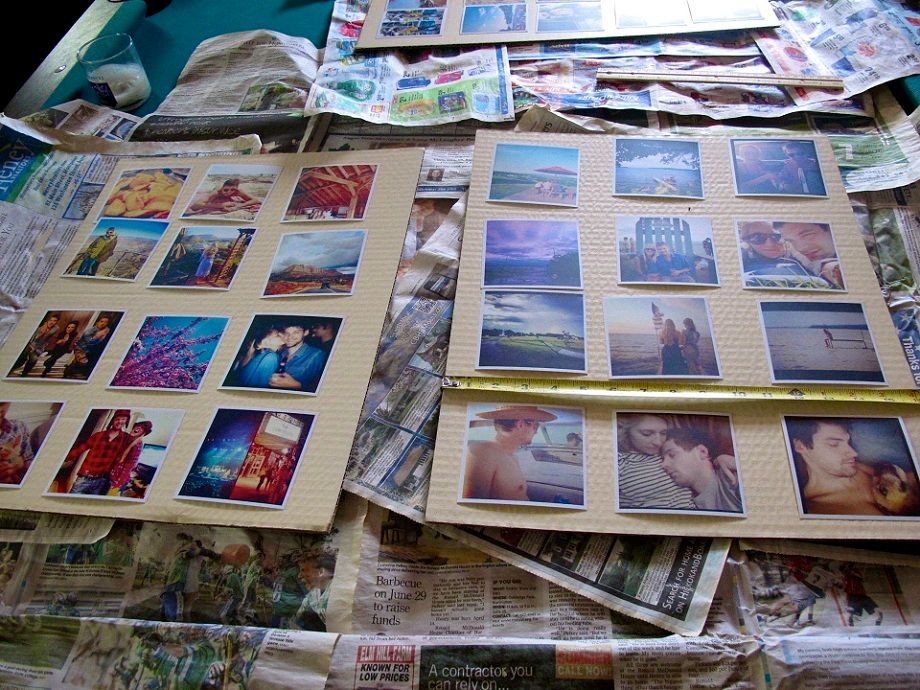 After we had all the photos taped on, we put heavy books on top of them and let them sit overnight. However when we put them in the frames the next morning, we found that apparently double-sided tape doesn't stick to painted cardboard very well or for very long (see the photo above). We re-did them all with
adhesive spray
that josh had at his apartment, and it worked much better. I can't wait until they are hanging in our new bedroom and we get to look at them every day! They actually may just be the only thing in the apartment right now. More photos to come...